Guide Services
Commercially insured and licensed by the U.S. Coast Guard for your peace of mind.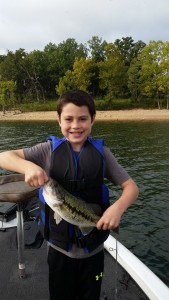 Greenough's Guide Service is the premier guide services in beautiful Branson, Missouri providing angling adventures on Table Rock and Tanneycomo.
Our Branson Guided Fishing Trips are designed to accommodate anglers of all skill levels from beginners just wanting to have fun and catch a few, to tournament professionals who enjoy our NO SECRETS tournament prep trips sharing tournament winning techniques.
Corporate and group trips are not a problem, No matter how many folks you have we can get them on the water and having fun.
We do our home work before you get to the lake so you spend your day catching fish, not looking for fish. All of our Branson Fishing Guide Trips are flat fee and there are no surprise charges at the end of the day.